gallery
Miscellaneous
Our Cosy Bed
Friday, May 02, 2014
I've got four passions in life; beauty, fashion, working with children ( who never cease to ...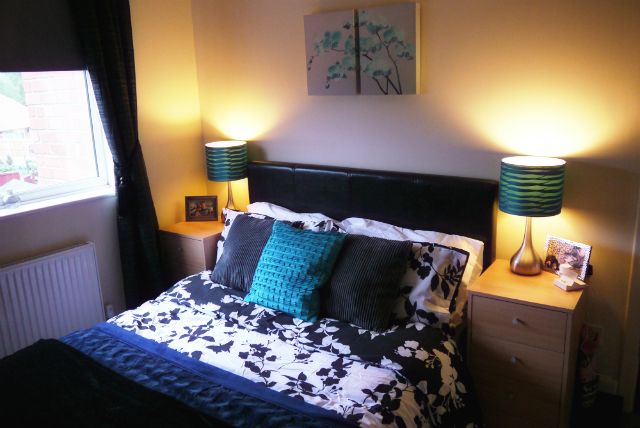 I've got four passions in life; beauty, fashion, working with children (
who never cease to make me smile
) and interior design. Today's post is about the latter. Now I'll be the first to admit I'm no Laurence Llewelyn-Bowen, but I do enjoy piecing things together and creating something pretty. My house isn't perfect though, nothing is exactly how I want it.
Why?
Well unfortunately we're renting our current house and have no long term plans to stay here, so even though we've painted or wallpapered some of the rooms, it's not our house and so we never could or would spend the money on it to get it looking perfect. Me and Jordan are planning to move towards the end of the year after our tenancy is up to accommodate my new job (
of which I start in June!
) and I've kind of got my fingers crossed that we'll finally be able to buy a little place of our own rather than renting again. Anyway, back to the topic of my bed...
We picked up a new duvet cover yesterday and I'm not sure whether it's just me, but putting on a new duvet cover and seeing how pretty it looks makes me rather happy.
Sad but true.
The duvet cover is just a cheapy one from Argos at just £15 for a kingsize! It's the
Living Butterfly Black and White Duvet Cover Set
and is reversible, great for when you decide mid-week that you fancy a change. I love that it kind of goes with the wallpaper in our room too, of which you can see a sneaky peek of
here
. Everything else around my bed isn't quite so new. Jordan, like any boy, is not a fan of cushions and so I've dwindled my once rather admittedly ridiculous cushion display down to a maximum of three cushions, all of which are oldies from
Wilkinson's
. The throws were both gifts so I'm not entirely sure where they're from, the lamps are also from
Wilkinson's
and the photo frames are from the Pound Shop.
Yes really!
As for one of my favourite pieces in my room, the floral canvas above the bed, that's from
Next
, which as anyone who lives in the UK will know, have the most amazing home department that never fails to make me want everything.
As I said, it's not perfect and not entirely how I'd want it if I were living in my own home, but's it's good enough for now and I've got my fingers firmly crossed that we'll be purchasing our own house at the end of this year!