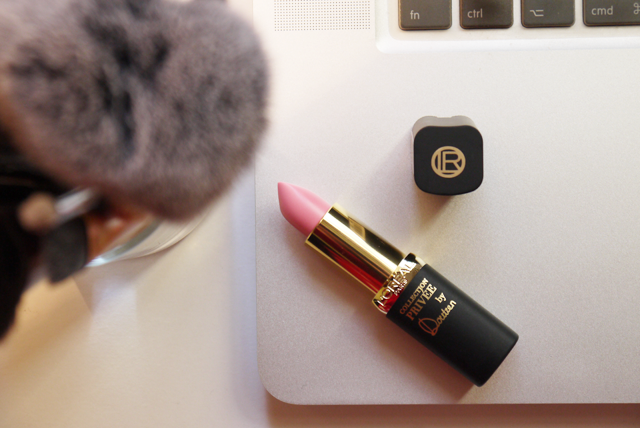 Everyone seems to be raving about the L'Oreal Colour Riche Collection Privee lipstick in the 'Cheryl' shade at the moment, a shade that perhaps would have been ideal for me if I carried on my fake tanning antics but certainly wouldn't look right on my natural porcelain complexion. That said, a couple of months ago I came across the 'Doutzen' shade and being a big fan of the Victoria Secret model Doutzen Kroes, I was intrigued.
Doutzen always sports an effortless makeup look preferring lighter beige or pink toned shades over darker bronzes or browns. Whilst I do often wear bronze and brown shades - a must have to make my blue eyes pop, I've always been a fan of the pretty in pink girl next door look which is definitely what this lipstick excels at creating. Once applied to the lips it leaves a sheer wash of colour and looks very natural. Add that to the fact that the formula is so incredibly moisturising that it feels almost like you've accidentally picked your lip balm up instead of a lipstick and I'd say I've found myself a winner. I've been popping this on most days lately with
Seventeen's Instant Glow Pink Bronze Shimmer Brick
on the cheeks, Mac's All That Glitters eyeshadow and heaps of my new favourite mascara, Autograph's High Definition. Natural, effortless and pretty but put together enough to see that you've made an effort.
You can purchase the L'Oreal Colour Riche Collection Privee lipstick in the 'Doutzen' shade at any Boots or Superdrug for £8.19 or online
here
.