Fashion
The Style
Khaki & Casual
Sunday, April 06, 2014
You may have noticed the blogs been a little quite as of late. Unfortunately being a final year ...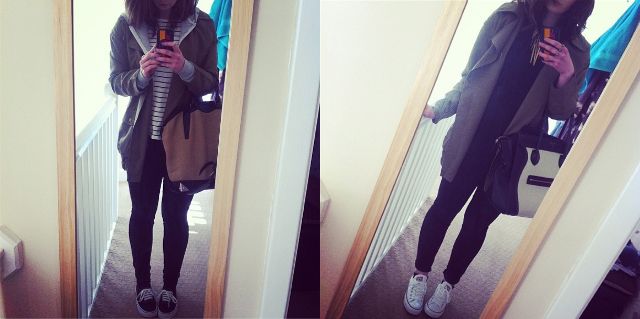 You may have noticed the blogs been a little quite as of late. Unfortunately being a final year university student means that I have to prioritise my work over my blog, something that's absolutely killing me. My life currently consists of me sitting down at my laptop everyday and reading an endless supply of books and journals, then typing away ruthlessly to get all of these assignments and my dissertation finished in time. It's a dull existence but I'm sure it'll all be worth it. I can't wait to get back out into the big wide world, have a job and also blog more regularly again. I'm sorry I haven't been able to recently. Anyway, today's quickie of a post is all about my rather new obsession with the casual look...
I was a skinny jeans, boots and blazer girl for the longest time and even being a student couldn't persuade me that the world of Jack Wills, Toms and T-shirts was a better alternative. That was, until all this work set in and I decided to choose comfort over style. Add that to the fact that I'm pretty sure I broke one of my toes eight or so long months ago and it's been giving me a bit of bother, so I gave in and ordered myself a pair of black
Van's Authentic Plimsolls
and some white
Chuck Taylor All Star Converse
. Flat shoes were definitely a welcome new addition to my wardrobe I can assure you.
So with the arrival of my new casual footwear came a new era for me full of t-shirts, hoodies and another obsession - my new
Military Bomber Jacket
. Oversized, khaki coloured and military inspired, it's got my name written all over it. It comes with a belt and to be honest I'm not too keen, so I've just taken it off and have been leaving this jacket open to show off my new laid back attitude to getting dressed every morning. Oh and did I mention I even had my hair cut (shoulder length) short a month ago, adding to the whole casual vibe. Now I'm not going to say that me and this whole casual explosion will be a permanent thing but for now we're getting on rather well.