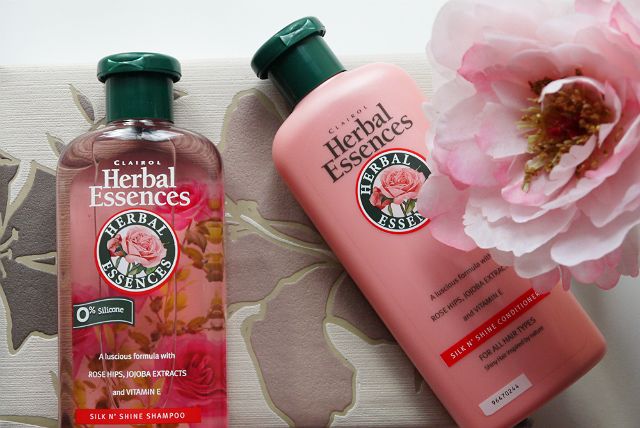 Enter the return of the classic Herbal Essences. Remember the ones you used to use as a teen? Yeah those ones. Now I don't remember much about these, but what I do remember is that they had a beautiful floral scent that lingers, and they still do! Floral scent aside, I've been putting these to the test over the last 6 weeks or so and have been dying to share them with you. Here's how they faired...


I picked up the Herbal Essences Silk 'N' Shine Shampoo and the matching Herbal Essences Silk 'N' Shine Conditioner. A 0% silicone formula with rose hips, jojoba and vitamin E, this shampoo and conditioner is designed for all hair types to create shiny, silky and smooth hair, and here's the shocker... they do just that! And they do it well too. In fact, the first time I tried these I was desperate to share my findings with you that exact same day, that's how impressed I was. As someone who has naturally wavy, slightly frizzy but super thick hair, I'm always looking for products that will smooth away any frizz but that also don't weigh my hair down any more than it already is. The combination of these two products mean that my hair feels lightweight and more voluminous because of that. Now I'm not sure whether they're so lightweight simply because they doesn't contain any silicones, but whatever the reason I'm a fan of this cleansing and conditioning duo that intensely clean and then hydrate my hair leaving it feeling soft and silky with a little bit more bounce than usual. Good old Herbal Essences, you've done my hair the world of good.
You can pick up these huge 400ml bottles of the
Herbal Essences Silk 'N' Shine Shampoo
and the
Herbal Essences Silk 'N' Shine Conditioner
from Boots for the bargain price of £3.79 (
or get them for 1/2 price now if you're snappy about it
).