Skincare
A Little Skincare Update
Wednesday, February 05, 2014
After using up the last few dregs of my ( very much adored! ) second bottle of the Cleanse &...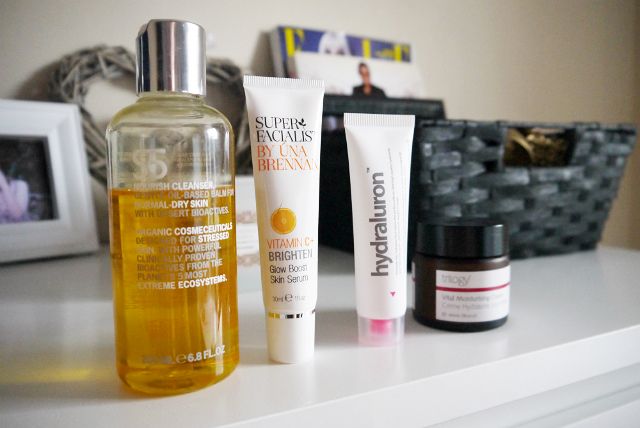 After using up the last few dregs of my (very much adored!) second bottle of the Cleanse & Smooth Face Balm from Balance Me, I decided that instead of immediately repurchasing what I class as my favourite cleanser ever, I'd have a bit of a shop the stash moment and rediscover some cleansers that I've previously loved. Along with that back at the start of January I decided to mix up my skincare routine and here's what I've come up with...
As far as morning skincare routines go, mine are always fairly minimalistic consisting of a cleanser, eye cream (not included as it's something I'm not entirely happy with at the moment), serum and a moisturiser. It only takes a couple of minutes to work everything into the skin and then I'm good to go.
My cleanser rediscovery comes in the form of the
S5 Nourish Cleanser
* (more info
here
), a gel oil formulation that turns into a milky liquid once it comes into contact with water. I usually pop a pea sized amount into the palm of my hands, massage it into my face and then remove with a muslin cloth. Full of natural ingredients and aimed towards those with normal to dry skin, it leaves my skin feeling clean, soft and hydrated with no redness in sight.
Fab!
Next up it's a toss up between skincare newbie
Hydraluron by Indeed Labs
, a clear liquid gel serum, and the
Superfacialist by Una Brennan Vitamin C+ Brighten Glow Boost Serum
(post
here
) which boasts more of a creamy consistency. I find that the Una Brennan Glow Boost Serum provides immediate hydration and radiance to my skin, whereas I've noticed that whilst the Hydraluron doesn't immediately make my skin feel as hydrated as the Una B one, it seems to penetrate into the skin throughout the day and leaves my complexion feeling nourished for longer. To use, I rub a pea sized amount into my face and neck avoiding the eye area. Last but not least, it's over to what I often refer to as my favourite moisturiser,
Trilogy's Vital Moisturising Cream
(review
here
). This easily absorbed light cream containing a medley of natural ingredients never fails to add just the right amount of hydration to my complexion without leaving a greasy layer on the skin. It sounds simple, but it's definitely one I love to dance for joy over.
Morning skincare routine aside, I'd love to hear your eye cream recommendations!?