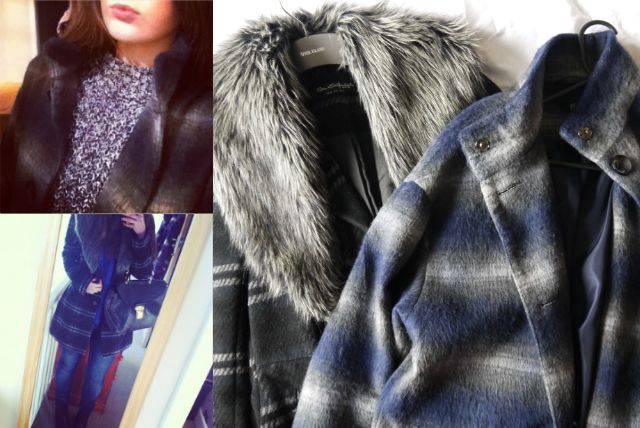 Here's something you may not know about me, I'm rather coat obsessive. I can fill a whole clothes rail with coats and jackets and still have to pop a few into my under bed storage boxes. Needless to say, what coat to wear definitely comes into the equation when I'm picking out an outfit and I'm not one of those girls who can just wear any coat over the top of their clothes, despite whether it goes with what they're wearing or not. Since it's rather chilly here in the middle of our British winter and a coat is a must, I thought I'd introduce you to my newest coat crush - tartan coats (or plaid to any US girls out there).
Both snapped up in the sales, the black and grey tartan coat with detachable fur collar was picked up from Miss Selfridge for the barginlicious price of £25 and as for the blue and grey F&F from Tesco one, a mere £15 was spent on this beauty. Pop on a jumper, a pair of skinny jeans and some boots with your tartan coat and you're ready to go.
Now I can't find either of these online unfortunately despite the fact they've both been purchased within the last few weeks and if after a snoop around your local Miss Selfridge and Tesco stores you're not fortunate enough to find them for yourself, I've searched the internet and picked out a few more tartan numbers that I've got my beady eyes on and so might you.


What do you think of tartan coats? Are they your cup of tea or do you prefer to leave them to grace the backs of other girls?