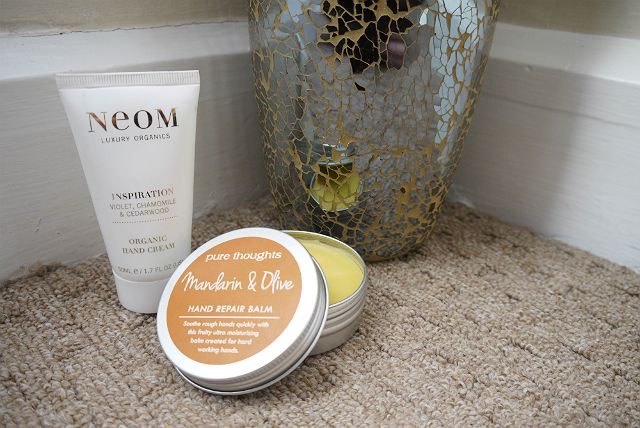 Excuse the Scrubs reference in the title (I just couldn't help myself...) and another thing that can't be helped is my excessive hand cream purchases. You see, I'm the girl who applies hand cream 15+ times a day, not because she likes to but because she has to. Of course I do like to smother my hands in creams, lotions and balms, I like soft hands, who doesn't!? But my dry, cracked and dermatitis prone hands make it a constant battle for me to maintain and in the colder months it only gets worse. That's why I thought I'd share my current hand maintenance menu with you all. Just two products, two different consistencies and price brackets but ones that get the job done nonetheless...
For the daytime and for out and about
Neom's Inspiration Hand Cream
is my current cream of choice. Violet, chamomile and cedarwood create a beautiful woody floral scent that's a dream to smother on without irritating sensitive skin whilst it's light and easily absorbed but moisturising formulation containing argan, avocado and almond oils mean that it's great for an instant hydration boost. It's a goodie for 'good hand days' meaning days where my hands are being reasonably well behaved but for those of you that don't suffer from hand issues like I do then it's a luxury everyday hand cream that gets a big thumbs up from me.
Bad hand days tend to need quite a bit more attention and that's where balms come in.
Pure Thoughts Mandarin and Olive Hand Repair Balm
is a recent purchase that my hands were crying out for. Created with numerous intensely moisturising ingredients such as olive oil, avocado butter and macadamia oil, it's a heavenly zesty treatment that gets to work and makes my poor hands look like hands should look. Healthy, happy and soft - something that's typically a tall order for me but PT's Mandarin and Olive Hand Repair Balm makes it look like a piece of cake, not to mention that it's also a lovely bedtime treat that I like to pop on and let it do it's magic whilst I doze.