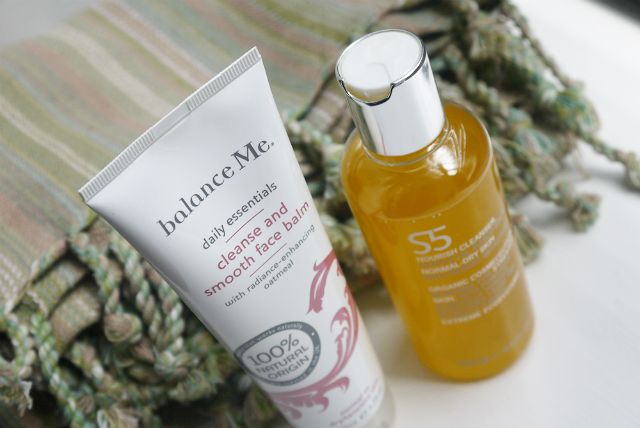 According to the skin guru we've all heard about and seen rise to further recognition earlier this year,
Caroline Hirons
, everyone needs to use a good ol' balm cleanser to take off their makeup and destroy that nasty grime which ever so kindly splatters itself all over your face on a daily basis. They also encourage you to take the time to look after your skin, really massaging the product into your face and removing with a flannel or muslin cloth. For me, at a time when (dare I say it...) I was having a bit of a hormone overdose with two contraceptives at once, the implant and the pill, which left me with severely congested and blemished skin, balm cleansers were (and still are!) the only way to go. These two in particular are worth a mention...
The Lowdown: Balance Me's Cleanse and Smooth Face Balm* has been a favourite of mine for yonks and has always been my go-to cleanser for any skin concern from A - Z or for a simple good cleanse. Aimed at normal to dry and sensitive skins, it claims to cleanse, smooth and hydrate whilst leaving your skin looking more radiant. The newbie cleanser on my skincare block is S5's Nourish Cleanser*, I've been trailing out this oil based balm cleanser since it arrived on my doorstep two weeks ago and haven't managed to reach for anything else since. Designed for normal to dry and stressed skin, it fits the bill for my skin needs perfectly and claims to maintain elasticity and act as a protective barrier.
The Ingredients: Both products seem to have a bit of a thing for arctic ingredients with Balance Me's offering using anti-oxidant arctic cloudberry and the S5 cleanser using arctic sea buckthorn oil which is rich in omega 3 and 7 but also improves skins elasticity, hydrates and decreases redness in the skin. Alongside these, the Balance Me C&S Balm uses main ingredients such as chamomile, oatmeal and red mandarin whereas the key actives in the S5 Nourish Cleanser include desert pomegranate oil, high altitude rosehip oil and desert argan oil.


The Little Extras: Both come in plastic hygienic squeezable packaging with the BM Cleanse and Smooth Balm coming in a tube and S5 Nourish Cleanser in a clear bottle. The packaging on the Balance Me Cleanser is clearly aimed more at women due to the pink and grey theme so if you're trying to convince the man in your life to give a balm cleanser a go, S5's option might make for easier convincing. The Cleanse and Smooth Balm also comes with a muslin cloth whereas the Nourish Cleanser does not, which isn't a big deal if you have a collection of flannels and muslin clothes lined up in a drawer like I do.


The Result: Despite the difference of ingredients the results these two cleansers give are very similar. Clean, fresh, hydrated and smooth skin with a ounce of that enviable lit from within glow. I don't think you could want anything else from a cleanser, except these two seem to keep on giving. Not only do they leave me with all that, but I also seem to benefit from an evened out skin tone with no redness in sight, minimised pores, congestion disappears and they seem to heal unsightly blemishes quicker as well as keeping further breakouts at bay. Of course there are a few minor differences. They have different textures with the Balance Me cleanser being slightly grainy due to the gentle exfoliating oatmeal and the S5 cleanser turns into a milk upon contact with water. The shade and scent of the products themselves is a slightly citrusy off-white concoction for the Balance Me cleansing balm and a lovely golden yellow marzipan scented formulation for S5. That said, they're both wonderful cleansers which I can imagine all skin types would benefit from and I'm going to go as far as calling them the 'skin perfecting balm cleansers' because in all honesty, that's what I find them to be.
The Answer: Pick Balance Me's offering if you want a balm cleanser that's ideal for taking off stubborn mascara at the end of the day without causing any irritation to the delicate eye area. If you're a bit of a balm cleanser newbie or simply prefer an easily removed option, the S5 Nourish cleanser is the one for you as once you've added the smallest amount of water to your face the magical transformation of balm to milk means that with one swipe of a damp flannel you're clean, makeup-free and ready to go.