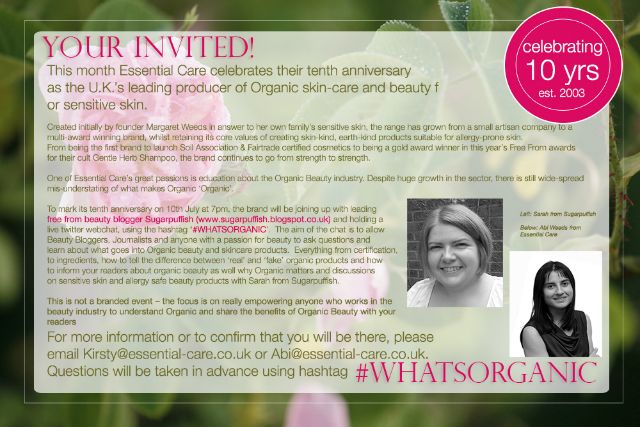 Award winning natural and organic skincare brand, Essential Care, are hosting twitter webchat '
#WHATSORGANIC
' tonight along with guest blogger,
Sarah
, to mark the tenth anniversary since they were launched in 2003.
As a brand who wholeheartedly believe in providing the purest skincare possible, Essential Care are an ideal option for those, who like me, have sensitive skin. Their ethos is second to none and they pride themselves on creating a range that doesn't break the bank without compromising on high quality ingredients that are free from nasties and are never tested on animals. Today, Wednesday 10th July at 7pm (GMT) Essential Care will be pairing up with
Sarah from Sugarpuffish
to discuss what organic beauty actually is. It's a wonderful opportunity for those of you who, despite being aware that organic is best, don't really know why. Learn about certification, ingredients and have your questions answered at the same time. To take part in the webchat search for
#WHATSORGANIC
at 7pm tonight and for those of you interested in Essential Care themselves, their website can be found
here
.