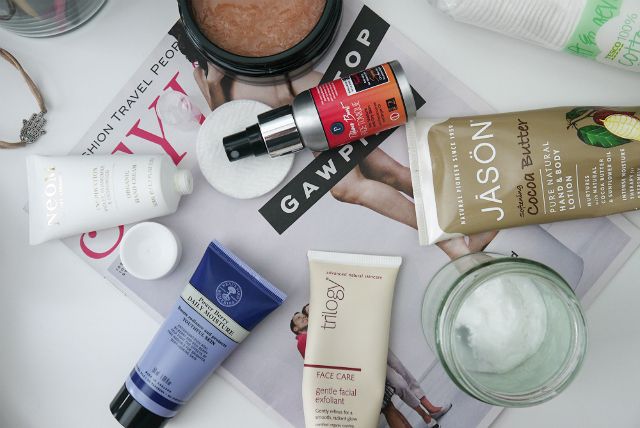 With a natural skin tone that could give Snow White a run for her money, it's no secret that I love to fake tan. Unfortunately I'm cursed with naturally dry skin all over my body so getting an even tan is a bit of a nightmare and requires quite a bit of prep as well as upkeep. Since yesterday was a fake tanning day I thought I'd document my skin prep, and shaving aside, it goes a little bit like this...
Shower bound, it's all about scrubbing away dead skin cells and making my skin as smooth as possible. For that I'm loving
Bodhi's Rosemary Chi Himalayan Detox Salt Scrub
* (review
here
), a luxurious blend of essential oils, shea butter and finely milled himalayan salt crystals which detoxify and banish those rough patches in a flash. Out the shower and patted dry, a smothering of
Jason's Cocoa Butter Hand & Body Lotion
gets popped all over my skin and on extra dry areas (knee's, elbows, feet...you know the drill) I like to massage a dollop of
Fushi's Virgin Organic Coconut Oil
as well as Jason's offering for a rather intense moisture boost. Yes I know it's an oil and you're not technically supposed to use oils in conjunction with fake tans but I've always been a bit of a rebel and it works for me, no extra fake tan clings to my scaly knee's thank you! I then use the coconut oil as a cleanser and double cleanse, removing with a warm damp flannel as I go. I like to mix up my exfoliators with my face, sometimes I'll use a mask with fruit enzymes and that does the job perfectly and other times I like to use a physical exfoliator, with the latter being my pick for today. Aside from Pai's offering,
Trilogy's Gentle Facial Exfoliant
is a clear winner for me. Gentle enough for my sensitive skin but hardy enough to really make a difference in the skin smoothing department, this thick creamy scrub with jojoba, rosehip and camellia oil makes skin look like new. After a good spritz of
Premae's Radiance Boost Tonique
* with a cotton pad, you'll be surprised that despite my facial oil obsessive tendencies, I don't use one before applying fake tan. It's that whole oil and fake tan situation again but for me I like to leave my facial oil until after I've got that sun-kissed look sorted. Moving on to moisturiser then,
Neals Yard's Power Berry Daily Moisture
is an ideal candidate for pre-tan hydration with it's lightweight and easily absorbed formula that adds just the right amount of moisture. Packed with acai, bilberry, goji berries, brazil nut oil and hyaluronic acid, it seems to add a beautiful subtle radiant glow to the skin and somehow almost makes my skin look airbrushed. Finally, my hardworking hands get treated to a bit of much needed hydration with a generous application of
Neom's Inspiration Hand Cream
. An argan oil and acai loaded concoction with a scent of violent, chamomile and cedar wood, needless to say it's one sexy scent combination that's almost impossible not to smother all over my body too.
Rough skin be gone, hello silky soft skin - the perfect base for a fake tan.
P.S. I started a lifestyle blog yesterday so if you're a nosy parker like me and love reading about peoples personal lives please do check it out, here.