If you don't know about natural and organic beauty boutique '
A Beautiful World
' yet then where have you been? Granted, the online beauty retailer only opened it's doors in May but I already, along with others, have a whole lot of love for this place. If you've ever longed after products from across the pond but can't seem to get a hold of them then A Beautiful World is your answer. The ABW team have scoured the globe searching for the very best in facial, body and haircare products with natural and organic ingredients, gathering them all up so that you can have them delivered right to your door in pretty little bags.
I was lucky enough to be contacted by Liz McCarthy, A Beautiful World's founder and was asked if I would like to give a couple of products a try and just generally see what I think of A Beautiful World themselves. So I hopped on over to their website and browsed through their range of brands which include Yarok, S.W. Basics, Dahliana, Marble & Milkweed and Chocolate Sun to name a few. I decided to make the most of this opportunity and pick two products from two different brands, both of which I'd heard of before and had been dying to give a go. The S.W. Basics Shea Butter Cream and Marble & Milkweeds Spring Tonic Facial Serum arrived a couple of days later all packaged beautifully along with a couple of lovely samples. My initial thoughts on both products are as follows...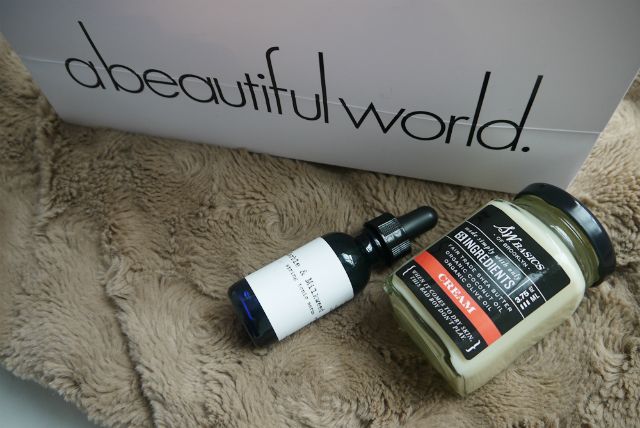 A blend of just three simple and completely natural ingredients,
S.W. Basics Shea Butter Cream
* contains shea butter, coconut oil and olive oil to provide an intense moisture boost where your body needs it most. This ultra rich but non-greasy cream can be applied on the face, body and nails and I've even cheekily smothered it onto the ends of my hair. Just one little dab of your finger into this rather generously sized jar and you'll be upping the hydration stakes in no time. As for the
Marble & Milkweed Spring Tonic Facial Serum
*, this rich and nourishing oil is recommended to use at night or sparingly during the day with a drop or two mixed in with your moisturiser. A mix of jojoba, sweet almond and evening primrose oils along with chamomile, neroli and geranium means that despite being a rich and hydrating formulation it's still very easily absorbed and leaves the skin feeling very calm and soothed.
It'll be a little while until I'm ready to go into more depth regarding both of these products but for now I'm truly enjoying using them and am eager to discover more from
A Beautiful World
, as well as watch them grow into a larger, thriving online natural beauty boutique.